With Governor Corbett's approval ratings hovering stuck in George Bush territory for most of 2013, here's some of his more memorable moments from the previous year – or I as I would like to call it, his "dumbest of the dumb."
3) Unemployed Workers "Can't pass a drug test…"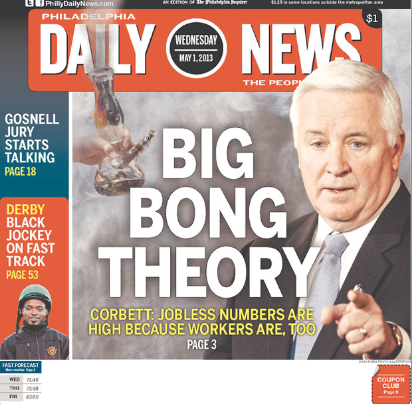 The first gem from our dearest governor came in late April when Governor Corbett did a radio interview with PAMatters.com.  In the interview, Governor Corbett said:
The other area is, there are many employers that say we're looking for people but we can't find anybody that has passed a drug test, a lot of them. And that's a concern for me because we're having a serious problem with that.
2) Can You Help Me Find Some Latino's?
Coming in at number 2 in Governor Corbett's "Year of the Dumb" was his appearance at an Al Dia forum.  Al Dia is a spanish newspaper outlet that is distributed throughout Philadelphia and other major cities.  At the forum, the governor was asked if he had any members of the latino community on his cabinet.  The Governor responded "No, we do not have any staff members in there. If you can find us one, please let me know," and proceeded to with "Do any of you want to come to Harrisburg? See?!"

3) Gay Marriage, it's like 12 year old on 12 year old?  No wait?!?! It's like brother on sister!
Capping off Governor Corbett's Dumbest of the Dumb is the ongoing gay marriage issue that has been hanging over Governor Corbett's head since May.  The story begins when Attorney General Kathleen Kane refused to defend the Commonwealth's version of DOMA, citing it to be unconstitutional and discriminatory against the gay community.  At the same time, Montgomery County Register of Wills, Bruce Hanes, started to usurp state law and issue marriage licenses to gay and lesbian couples.  To put a halt to Hanes' actions, the Department of Health filed a mandamus writ against the Montgomery County Register of Wills.  In court, the state appointed lawyers stated:
The state filed a brief Wednesday opposing the couples' participation, arguing that their marriage licenses hold no "actual value or legitimacy" and thus have no right to be defended in court.

"Had the clerk issued marriage licenses to 12-year-olds in violation of state law, would anyone seriously contend that each 12-year-old . . . is entitled to a hearing on the validity of his 'license'?" the state wrote.
Then in October, Governor Corbett did an interview with WHP-TV anchor Sherry Christian.  In the interview the governor was asked about the Department of Health equating gay marriage to marrying two 12 year olds.  The governor disagreed with the analogy and came up with a better comparison:
CORBETT: It was an inappropriate analogy, you know. I think a much better analogy would have been brother and sister, don't you?

CHRISTIAN: I don't know. I don't know… Umm… Yeah, I'm going to leave the comments to you and your team, but you did say it was inappropriate and you have a better phrasing that you think.
The ongoing trainwreck the Department of Health, Governor Corbett and the marriage equality issue didn't end there.  In December the issue was highlighted once again when lawyers defending the Commonwealth's DOMA laws tried to probe into the sexual history of the defendants suing the state.  The Post Gazette writes:
Attorneys defending Pennsylvania in a federal court challenge to the commonwealth's prohibition on same-sex marriage have asked for "irrelevant," highly private information about the plaintiffs, their lawyer said, including whether they engaged in previous heterosexual relationships and who the natural parents of their children are.
So there you have it, Governor Corbett had some really stupid moments in 2013, but with the 2014 governor's race heating up will the governor continue to be a gaffe machine? Or will his public relations department put a muzzle of governor?